Outdoor living rooms. Multitasking kitchens. Home offices and multi-functional spaces. These are among the most desired home renovations of the last few years. If you're considering adding these features to your home, we'd love to share why rebuilding your home with BUILD by TJH could be a better option.
Managing a renovation
A major renovation, especially one that involves structural changes or add-ons is a huge undertaking. Hiring an architect and design team to develop plans, securing city permits, finding a contractor to manage the construction process, and ensuring the work will pass final inspections is a full-time job. Renovating often requires no less of your time, energy, and resources than building a new home. If you're going to do it, why not consider how much more you would get from a complete rebuild with TJH? 
More than a renovation, BUILD by TJH offers a complete solution for transforming a tired, out-of-date home into the new home of your dreams without the stress of managing all the details. From design to construction, the entire integrated process is coordinated and monitored by a dedicated and experienced project manager to ensure a seamless and more efficient experience every step of the way.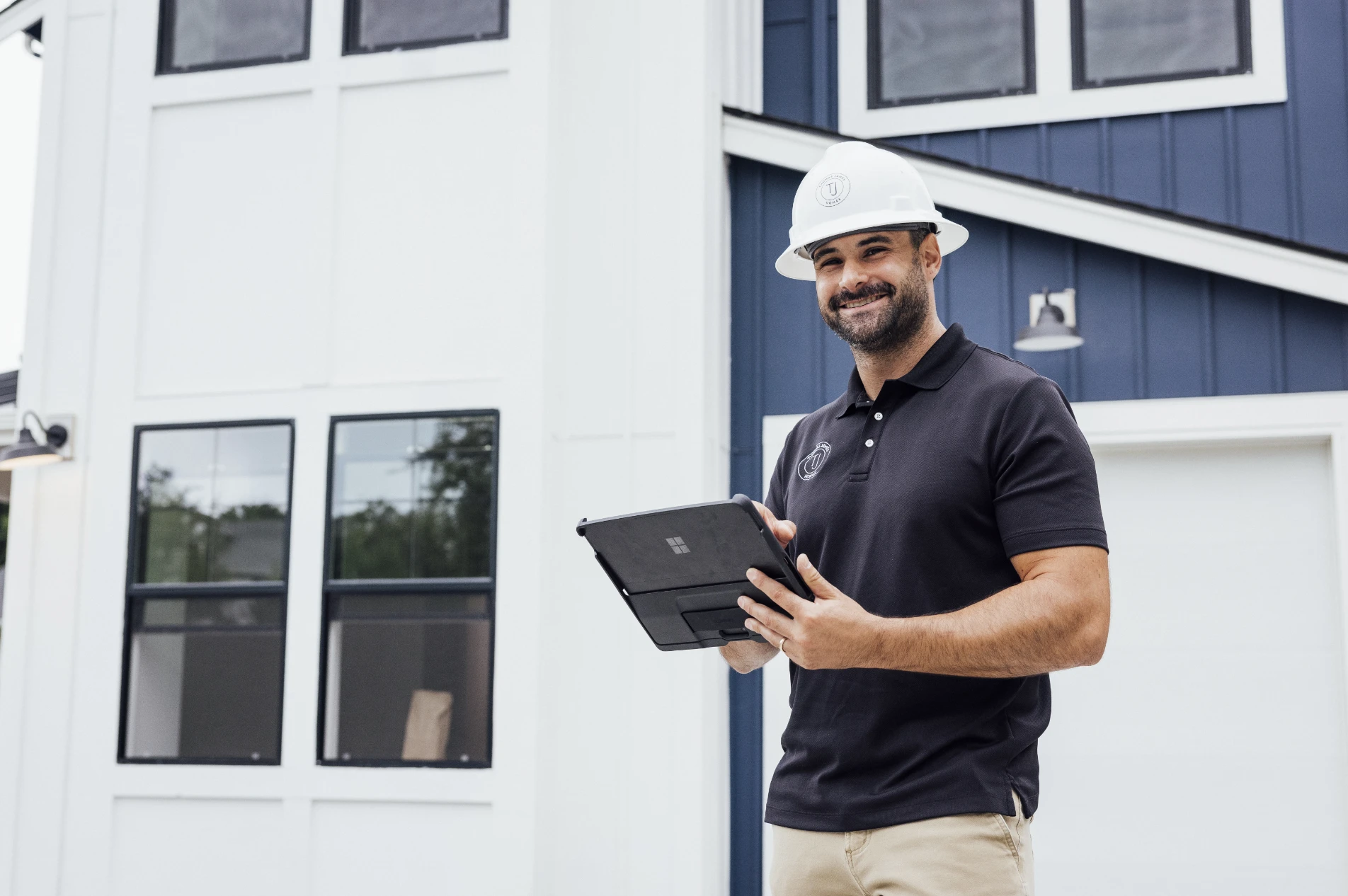 Planning for paperwork
It can be extremely frustrating and costly to finish a renovation project only to find out that you need to start over because you overlooked getting the appropriate building permits. Not only does it delay your project, it can also result in fines from local authorities. Furthermore, should you decide to sell your home, a lack of permits and inspections will restrict its sale opportunities later on.

In some jurisdictions, it can take several months to get through the permit stage. Avoiding this process is one of the many benefits of BUILD. When we rebuild your home, you can skip the headaches of permit applications, inspections, and approvals—that's our job. 
Our promise to you: we'll complete your new home within 12 months of commencement of construction, or we'll pay you for every day we're late.*
Resetting the age of your home
It's also important to consider the risks of renovating an older property versus building a new one. Renovations may require more work than anticipated if underlying issues like structural defects, water damage, wood rot, or foundational problems are missed. Sometimes, these can take the simple project out of scope and quickly become a financial sinkhole. 
Rebuilding your home can provide several benefits that go beyond just the aesthetic. With a new build comes updated materials, building practices, and safety codes that make your house safer from common structural issues and more sustainable. It also means less maintenance and repairs on average to cut down on costs long-term. Most importantly, resetting the age of your home with BUILD gives you a best-in-class new home warranty that no renovation could ever deliver. 
On average, a new home costs 2.5 times less to maintain than an older home 
Increasing your home's value and ROI
Whether you plan to live in your home for the foreseeable future or sell it at some point, it can be smarter financially to tear down and rebuild. Not only does this reset your home's structure, materials, and overall efficiency, but it can make for better financial returns, with increased equity and a higher projected resale value than renovating.
Although renovating may cost less initially, research has shown that most upgrades only offer a 55-60% return on investment (ROI) and won't necessarily increase your overall resale value. 
BUILD by TJH works by unleashing the equity in your home to expand its footprint and enhance its functionality so you can maximize your homesite's full financial potential. Our Private Client Group will work with you to run a complete BUILD Analysis for your home, including site feasibility, financial analysis, and new home neighborhood comparables. 
Designing for your lifestyle
When deciding whether to renovate or rebuild your home, it's important to consider how the changes will impact your everyday lifestyle. As home design continues to evolve, rebuilding offers unique advantages that renovating a home simply can't match—flexible floorplans for better spatial flow, bonus lofts and offices to make working from home more enjoyable, window placement that takes advantage of natural light and ventilation, plus clever storage solutions that make the most out of each square inch. 
So ask yourself,  what is your home's purpose—not just for today but for the future? Once you have a clear vision of how you will live in your home, you can begin to map out what you would change to accommodate your lifestyle.
If you're considering the best way to make your home new again, rebuilding could offer greater advantages.  We simplify the process with an all-in-one approach that eliminates delays, reduces costs, increases your home's value, and makes for a stress-free experience—making BUILD by TJH the smarter way to transform your home.
| | Renovating | BUILD by TJH |
| --- | --- | --- |
| Project management | High-touch coordination of all subcontractors and suppliers | Architecture, design, permitting, construction, and warranty service all under one roof |
| Costs | Budget overages and change orders are standard | Transparent, all-inclusive pricing guaranteed |
| ROI | Overspending relative to resale value is a common pitfall | Comprehensive BUILD Analysis helps determine your financial upshot before you begin |
| Maintenance costs | Costs 2.5 times more to maintain an older home than a new home | A new home means less maintenance and better energy efficiency |
| Warranty | State-mandated implied 1-year fit and finish on renovated areas; additional extended warranties vary by builder | Best-in-class new home warranty up to 6 years |
1 Data pulled from National Association of Homebuilders.